Do you need to notarize your documents urgently? Are you tired of waiting through eternity to get your work done? Well, this article will ease the headache of getting your documents notarized. A mobile notary is a go-to person who will conduct the notarization process at your convenience. Mobile notarization services have been gaining popularity in recent years as many sectors and industries require notarization of their documents. If you cannot contact a public notary, the best option is to reach out to a mobile notary.
Who is a Mobile Notary?
A mobile notary, also known as a traveling notary, is a person who visits different locations at the time fixed by you, to ensure proper completion of the notarization process. A mobile notary meets a client personally. The task of a mobile notary is to verify the signer's identity, witness the signing of the document, and finally put his signature and stamp on the document. His job also involves checking the authenticity of all the documents and ensuring that no signer is signing under any compulsion or due to any threat.
How Can a Mobile Notary Help?
Mostly, a mobile notary is helpful for real estate or mortgage transactions. They can also be hired for any documents that require notarization for any purpose. They are typically hired for transactions that require signatures by multiple parties. They are especially very useful for closings of mortgage transactions across state borders.
What Requires Notarization?
Knowing about which documents are to be notarized will help you sort your documents and keep them ready for a mobile notary. Generally, the documents that require notarization include- Power of Attorney, Vehicle Title Applications, Custody Agreement, Mortgage Closing Documents, Medical Documents, Trusts, Deeds, and Wills and Agreements of Long Distances.
What are the Advantages of Hiring a Mobile Notary?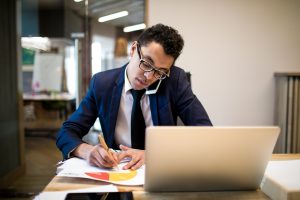 Let us have a look at the multiple advantages of hiring a mobile notary:
Cost-effective: A mobile notary is available at a reasonable cost. Their fees are mostly dependent on state laws. In some cases, their maximum fee is also prescribed by the particular jurisdiction. As a business person, you can optimize your finances by hiring them at an affordable cost.
Time-saving: It is very difficult for business owners to find time for being present throughout the entire notarization process. A mobile notary is available at the chosen schedule making it easier for the business owner to concentrate on his business and leave the notarization process to be handled by the professional notary.
No location limitation: A mobile notary will be ready to travel to any location at the scheduled time. With the services of mobile notary being popularized, it is no more compulsory for all the parties to be present during the signing process. A mobile notary can visit all the signatories and complete the process easily.
Quick and efficient transactions: A mobile notary eases the entire procedure of notarization and helps in completing transactions faster and with more efficiency.
Improved flexibility: Many mobile notaries with proper credentials provide services that are sometimes out of business hours. Their services are most appreciated in the face of any emergency or urgency. This makes it very easy for business persons to carry on with their business work much smoother and without any headache.
Enhanced client satisfaction: With the entire notarization process being completed within a brief period, clients are bound to be satisfied. A mobile notary will help a business person and also save his clients from facing unnecessary delays.
Choose the Best
Coast 2 Coast Signings, Inc. is a global signing service that offers professional and efficient signature services. The platform is convenient, accessible, and provides services of knowledgeable professionals who are trained, experienced, and licensed. It is an expert in completing signing procedures on a worldwide scale. Coast 2 coast representatives extend 24/7 supporting services ensuring premium customer experience. Their services include- Real Estate Documents, Reverse Mortgages, In-House Attorney, Power of Attorney, e-Signings, Global Signings, Creating Deeds, etc. So, visit Coast2Coast today and simply forget about all your worries related to notarization. Let Coast 2 coast, Inc. handle the entire notarization process for you, smoothly and efficiently.